Whether you're planning a "Friendsgiving" celebration or just want to keep Thanksgiving casual this year, Amigos has everything you need to ring in the holiday season without breaking the bank. Follow this guide to recreate our festive table, designed to keep Thanksgiving, a cozy and intimate affair.
---
Start with Rustic Decor
This homemade look combines earthy textures and harvest hues to set a table that is understated and warm. Simple white plates, classic serveware, and gold plastic silverware wrapped in colorful paper napkins will help keep the attention on the main attraction: the food. Forgo a traditional tablecloth and go with a slice of butcher paper for easy clean up.
Holiday Pro-Tip: Tie up your silverware with your favorite ribbon for an added touch.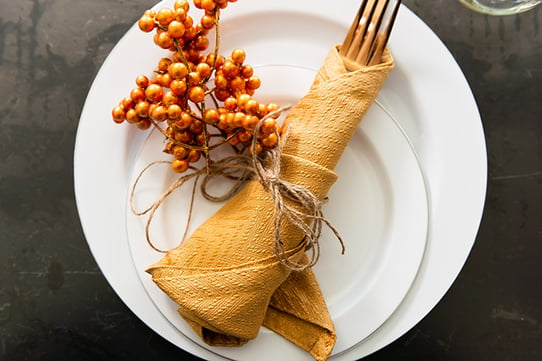 Add a Few Festive Bunches
Nobody likes to shout over a massive floral arrangement. Scatter small bunches of fall flowers and foliage in short vases down the center of your table. Pieces like sunflowers, sprigs of wheat, pampas, and pinecones are sweetly seasonal and inexpensive.
Holiday Pro-Tip: If you're hosting multiple events, opt for a few fake foliage items to make your bunches go further.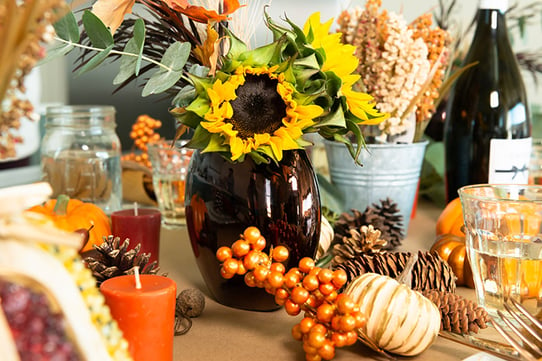 Let Us Do the Cooking
Between shopping for groceries and preparing your feast, hosting Thanksgiving dinner can be time-consuming and expensive! Let our team of in-store cooks take the preparations off your hands with fully-cooked turkey breasts and gourmet fixings like mashed potatoes with gravy, praline sweet potatoes, cranberry relish, homestyle cornbread dressing, and green beans available for order. Our Thanksgiving meals are completely customizable, so you can decide how much cooking you want to do this year.

Holiday Pro-Tip: Cooking your turkey yourself? Ask our experts in the meat market for tips on cooking your juiciest bird.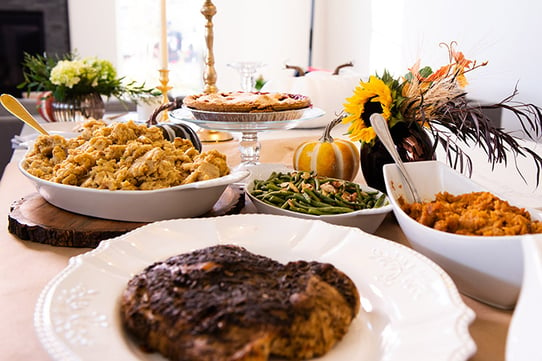 Shop the Holidays
Get started on your homespun table. Plan online for your staples, reserve your holiday dinner, or find an Amigos near you.